by John Manning
© 2015 by Management Action Program, Inc.
Published by Berrett-Koehler Publishers, Inc.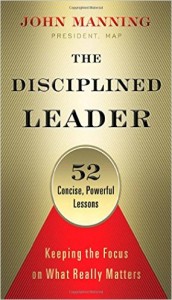 ISBN 978-1-62656-325-4
216 pp.
Reviewed January 2016
The subtitle of this book, "52 Concise, Powerful Lessons" sums up its approach and usefulness (or is the subtitle "Keeping the Focus on What really Matters"?). In either case, the lessons provided are, indeed, concise and powerful and provide a framework for focus. The lessons are broken in to groups:
• Where You Must Start – The Responsibility to Lead Yourself
• Break Through and Get Results – The Responsibility to Lead Your team
• Extend Your Reach – The Responsibility to Lead Your Organization
This is a logical process as a leader – especially a disciplined leader – cannot lead others before he or she can demonstrate the ability to show self-discipline and personal development.
The lessons in the book are short and there are useful examples for each one. To use this book most effectively, the reader is well served to follow the suggestion of the author to identify those issues that need personal attention, reduce them to the "vital few"(3 each) out of each section in a leader's area of influence, reduce these vital few to the top five area needing attention, and develop an action plan for each item. Because lessons in the book are quite short – typically 4 pages each – additional material is likely required to put the lessons learned into action. Adding a mentor or coach to the process would be helpful.
Of course, this is how the book came to fruition, based as it is on the author's practice as a management consultant. His company, Management Action Program (MAP), provides these support services to managers and organizations. To that point, much of this book seems as an advertisement for the company and its services and, as a consultant's output, the book is a bit superficial and only effective with the personal influence that they would very likely be pleased to provide. This does not, however, reduce the effectiveness of the lessons.
Although there are 52 lessons provided, this should not be construed as a need to apply one a week for a year's worth of leadership improvement. Many leaders will find that only a few – the vital few – items of the 52 need attention or are even applicable. As noted, picking areas requiring focused improvement will be the best way to leverage this book for improved management effectiveness.
Disclosure of Material Connection: This book was received for free from the author but a positive review was not required. The opinions expressed are those of the reviewer. This disclosure is in accordance with the United States Federal Trade Commission's "Guides Concerning the Use of Endorsements and Testimonials in Advertising" 16 CFR, Part 255.