by Mark Miller
Berrett-Koehler Publishers, Inc.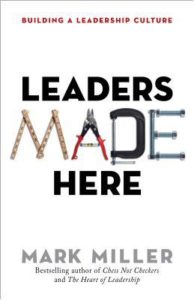 © 2017 by CFA Properties, Inc.
Mark Miller tells stories. He tells them with engagement and purpose. This book is no exception. The book is not extensive in writing, consisting of 144 pages (according to the publisher; the actual story is 130 pages) of easy reading. Even the format – font and layout – are conducive to making this a quick read. However, this small book can make an impressive impact on a leader. As straight-forward as the principles are, they could take a career to implement.
The story's premise is built around the challenges faced by the new CEO of an established company. At the time of a devastating explosion and fire, he realizes that the company has a severe lack of leadership. If he is to execute the turn-around he was hired to accomplish, he will need to build a strong "leadership bench" throughout the organization. Demonstrating the compassion for which the author is known, the CEO recruits a new leader for Human Resources as an outside consultant, replacing the executive who elected to leave after the fire. The story takes us through the process that this consultant follows in bringing his team together and building a consensus for leadership development that is so sorely needed.
Demonstrating methodology that the author has deployed in his own work, the fictional HR team discovers that they can build a culture of leadership depth by focusing on five elements that require the company's commitment:
Define it

Teach it

Practice it

Measure it

Model it
The implication in the book is that these principles can apply outside this fictional world – and the author's work demonstrated that they can. As with other of Miller's books, this one can be used to teach and grow staff without the pedantic nature of consultants and prescribed methodologies. leaders can be made and this book is an example of how that can happen.
Disclosure of Material Connection: This book was received for free for review but a positive review was not required. The opinions expressed are my own. This disclosure is in accordance with the United States Federal Trade Commission's "Guides Concerning the Use of Endorsements and Testimonials in Advertising" 16 CFR, Part 255.