by Chip R. Bell
13 February 2017
Hardback, 120 pages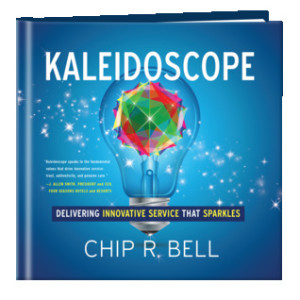 ISBN 1626343942
As one reads through this book, the obvious question will arise: How can an author pack so much useful information into such a small book? That is the beauty of Chip Bell's work. This is the third small book in a series that addresses how managers – anyone – can provide superior service. Using the symbol of a kaleidoscope, Bell brings us to a world where we can, with a small metaphorical twist, create a new view on how customers can best be served. Just as adjusting the colors one sees in a kaleidoscope, we can approach customers to provide the same sense of wonder by keeping a few principles in mind. These make up the titles of the chapters:
Enchantment: Add a Little Sparkle
Grace: Honor Your Customer
Trust: Keep your Covenants
Generosity: Serve It Forward
Truth: Nurture Total Candor
Mercy: Let It Go
Alliance: Stay … On Purpose
Ease: Take Care of Flow
Passion: Be All There
The respective subtitles of these short chapters speak much about how serving is accomplished in such a way that customers go away delighted – and then return. In fact, following these principles will enhance any relationship, whether as a manager, spouse, parent, child, leader. Each element is supported by examples of how and why this approach to serving customers (and others) works.
Although it only takes a short time to read this book, applying the principles could take a lifetime. It is clear that Bell has a wealth of experience to support the themes presented here. We will all do well to follow them. Please read this book and get started on delivering "innovative service that sparkles".
Disclosure of Material Connection: This book was received for free for review but a positive review was not required. The opinions expressed are my own. This disclosure is in accordance with the United States Federal Trade Commission's "Guides Concerning the Use of Endorsements and Testimonials in Advertising" 16 CFR, Part 255.